RCYA1 series chute permanent magnetic separator comprises two parts of the stainless chute and the permanent magnet, special use for removal of iron from non-magnetic materials within closed conduits, within the permanent magnetic separator using high-performance hard magnetic materials composed of composite magnetic system.size Is small, magnetic force is big, light weight, remove iron clean, convenient. Suitable no conveyor belt, can only provide the occasion of the chute. Open the pipeline dedicated door to remove the tramp iron when the magnet is adsorbed the magnetic materials, Mainly used for cement, chemicals, plastics, refractories, building materials and other industries.
Product Features:
* magnetic circuit design using computer simulation, high performance, uniform magnetic field, high strength suction.
* NdFeB material is magnetic source, high coercivity, demagnetization not exceed 4% in ten years.
* pipe with wear-resistant materials, wear-resistant material is 7-8 times of ordinary materials.
* no energy, energy saving, easy to install.
Installation Diagram:Technical Parameter Table: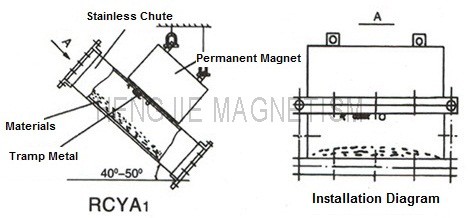 Technical Parameter Table: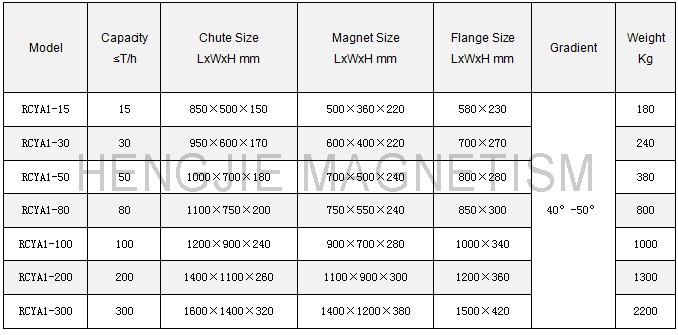 Remark:
The magnetic intensity of the product has: 1000GS,2000GS, 3000GS, 4000GS, 5000GS, 6000GS, 7000GS,8000GS and so on. Must be decided when ordering.