Single Toothed Roll Crusher is suitable for medium hardness materials (compressive strength <150Mpa) crushing operations, such as: sintered ore, coal, slag, shale oil,soft ore,etc. this machine have a characteristics big crushing ratio, high temperature resistance, simple structure, reliable performance, low power consumption and so on. Can be used in metallurgy, coal, power, chemical, mining industries.
Features:
Single Toothed Roll Crusher combines a part structure of the roll crusher and jaw crusher, It is a crushing equipment that designed by two advantage of the two crusher.
Single Toothed Roll Crusher is consists of a toothed roller and a fixed jaw plates, toothed roller is driven by motor, reducer, and coupling, big material into the crushing chamber between roll and jaw plates from the inlet, the material is broken to the required granularity by the impact and splitting generated toothed roll and jaw plate.
To enhance reliability for the Single Toothed Roll Crusher at high temperatures, the use of hollow spindle and water cooling to control bearing temperature in a certain temperature range.
Structural diagram: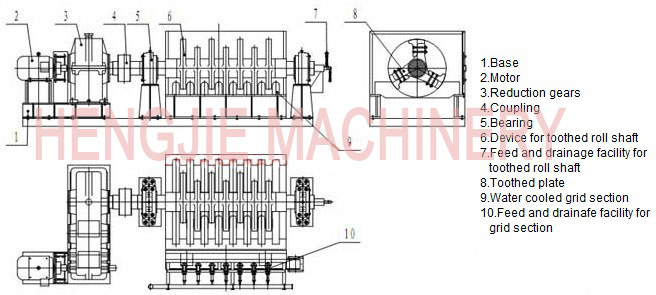 Technical parameter table: