Belt conveyor is a large throughput, low operating costs, a widely use of transport equipment. the main components have traction component and carrying component. Ordinary rubber conveyor belt suitable for the working environment temperature of -10

~ 40

. When operating ambient temperature is below -5

, the inappropriate use of polyvinyl alcohol core tape; When operating ambient temperature is below -15

, the inappropriate use of ordinary cotton cord core tape; when work environment temperature is below -20

, the inappropriate use of steel cord core tape. Ordinary rubber conveyor suitable for conveying material temperature does not exceed 80

, when the conveying material temperature is 80-150

, heat-resistant tape should be used, when the conveying materials temperature is 300-500

, resistant high temperature conveyor belt should be used.when conveying acidic, alkaline, corrosive, oily type materials and organic solvents, resistant acid, corrosion conveyor belt should be used. In a fire hazard work , resistant flame retardant conveyor belt should be used.
Drive device:
When power range is 2.2-5.5KW, electric drum may be used for driving, this can save space, but the ambient temperature is not exceed 40

. motor and speed reducer should be used when the power is more than 5.5KW.Drive roller surface have three forms for exposed steel surface, herringbone and diamond pattern rubber cladding.
Turnabout drum:
Smooth and rubber surface of two kinds.
Idler:
Made of seamless steel pipe, types: slot, flat, regulating, buffering of four kinds.
Taut device:
Spiral taut device suitable for a short length (less than 100m), stroke have 500m, 800m, 100mm three kinds; vertical hammer taut device can automatically compensate conveyor belt elongation depend on gravity; hammer machine type taut device suitable for a long distance, the larger power conveyor, taut stroke have 2,3,4m tap position, fixed winch taut device suitable for long stroke and large pull force (30-150KN), long distance, large-capacity belt conveyor, the maximum taut stroke up to 16M.
Cleaner: There are head cleaner and return belt cleaner of two kinds.
Discharger: Manual plow discharger, electric plow discharger of two kinds.
Structure diagram: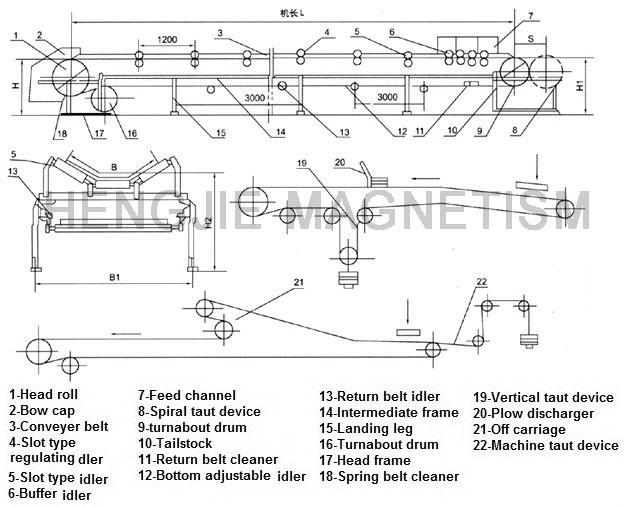 Technical parameter table: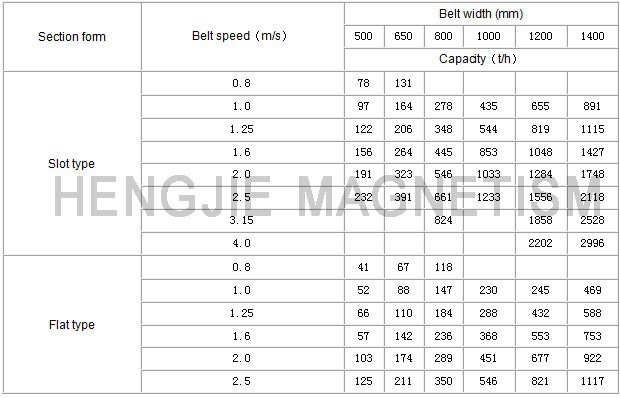 Belt Conveyor Power Selection Table (for reference):