Double teeth-roll crusher is suitable for compressive strength less than 240Mpa, humidity less than 30% of the hard and soft materials crushing operations, such as various ores, coal, coke, petroleum coke, lime, silica, carbon, glass, asphalt, chemicals, etc. The machine has characteristics of ultra-low maintenance, reliable performance, low dust and low noise.
Double roll crusher introduction:
Double teeth-roll crusher configure two tooth roller that surface divided into large (small) wolf teeth, special teeth cut rubber, ring teeth, straight teeth.sutable for the size requirements 10-200mm, less powdery requirements, and more granular crushing occasions.
Such as crushing all kinds of minerals in mining industry, steel industry broken limestone,crushing coal in thermal power industry; broken coke in coking industry; broken petroleum coke in chemical industry; electronics industry crushing silica; carbon industry broken carbon block; Broken waste glass in solar industry; crush lime, construction waste, clay, asphalt in construction industry,or similar to the above crushing occasions.
According to user requirements there are the belt drive and coupling drive (hard links). This drive motor can be refited to diesel or gasoline machine according to user requirements.
How to work?
Double teeth-roll crusher crush materials by extrusion pressure of two high-strength wear-resistant relatively rotation teeth roller,after the material into two roll gap (V-form crushing chamber),the material bear extrusion pressure and shear force generated two counter-rotating teeth rollers, under the action of extrusion, cutting and grind, the material is crushed to the required size and then sent by conveyor.
Structural drawing:


Technical parameters table: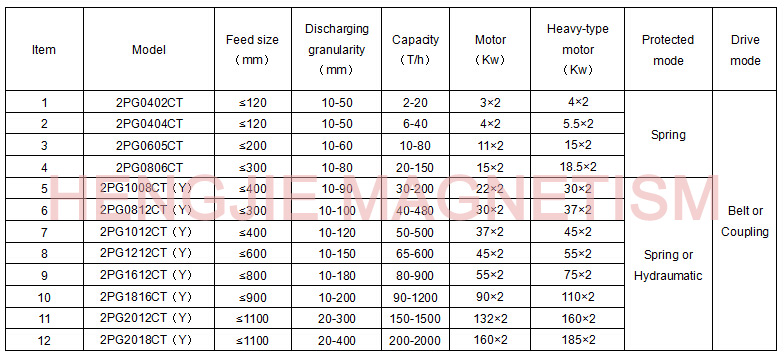 Remarks:
1, Model naming (in 2PG0806CT example): 2 indicate two rolls, P indicate crusher, G indicate roller type, 08 indicate rolls diameter (800mm), 06 indicate rolls width (600mm), C indicate teeth roll, T(Y) indicate spring protection (hydraulic protection).
2, In parameter table, the discharging granularity range indicate size can be adjusted.