ICS series belt scale is a ideal continuous measurement equipment for belt conveyor transport bulk materials, has a simple structure, weighing accuracy,easy operation, low maintenance, etc., not only for conventional environment, but also applicable to acid, alkali, salt and atmospheric corrosion environment, widely used in electric power, metallurgy, chemical industry, coal, mining, ports and other industries.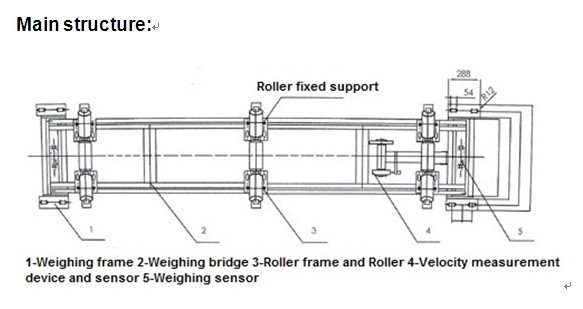 ICS Series belt scale dynamic cumulative error is less than

0.25%, for factory and process weighing, the detection of production, control loading products and monitoring of product inventory, provide important information for management of modern enterprises.
ICS series belt scale consists of three parts: lever weighing bridge ,60-12C type speed sensor, HY201type or HY202 type totalizer. Weighing bridge of weighing sensors detect the weight of material on the belt, send information into the totalizer; belt speed sensor detects the belt speed, send the speed information into the totalizer. Totalizer handle the received speed signal and the weight signal, to obtain the total amount of material and the instantaneous flow rate.
ICS type weighing bridge:
ICS type weighing bridge with four rollers on the parallel bars,using two pull-type sensor intermediate support, lateral support use no friction trunnion fulcrum, this closure device can prevent shock, prevent moisture, prevent corrosion and prevent accumulation of materials, and thus in harsh environment does not occur when using blade means and bearing means of problems caused.
Weighing bridge's main beam use rectangular steel, which makes the whole weighing bridge has a sufficiently high rigidity, small weight, appearance fouling area to a minimum. In order to ensure the stability of the entire system, high-precision resistance strain gage transducers mounted on the tension area, to reduce nonlinearity error.
Weighing bridge can be directly mounted in a variety of widths conveyor between the upper and lower belts, do not take up space height, which is a whole has been assembled at the factory, can be quickly and easily installed and calibrated. The weighing bridge suitable for belt width from 400-2000mm.
Other features:
No moving or wearing parts, maintenance is extremely small;
Resistance to lateral force, the level of force designed, belt deviation and the level of force is minimal impact;
Overall deformation of less than 0.1mm;
High strength rectangular tube, maintaining the stability of the calibration, reduce the accumulation and zero drift.