RCYK series armoured permanent magnetic separator specifically is suitable for metallurgical slag pick up iron, slag workshop pick up iron, casting workshop pick up iron.
Product Features:
1, The unique design of the armored belt, can effectively prevent the damage of spiculate iron.
2, At the rated height of the magnetic field strength have high gradient and strong magnetic.force.
3. Without electrical consume, energy saving, automatic unloading iron.
4, NdFeB rare earth of permanent magnet materials for magnetic source be stable and reliable.
5, With a auto-correction unloading belt, a special seal bearing, to adapt the harsh environmental conditions.
6, With compact and reasonable structure, easy maintenance, long-term trouble-free safe operation.
Dimensional sketches and installation sketches:

Parameter table: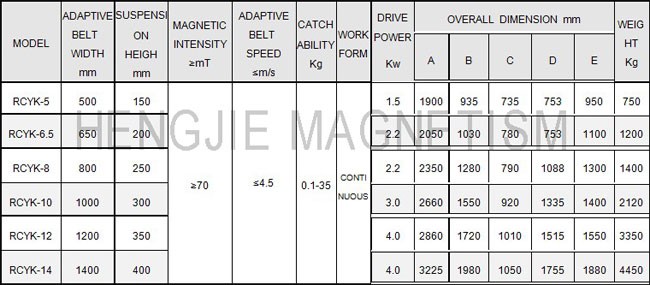 REMARK:
RCYK-T series armoured permanent magnetic separator has a heavy strength type: the type of T1 magnetic intensity is 90mT and T2-type is 120mT, T3-type is 150mT.