Main technical parameters:
1, All body of separator are made of 304 stainless steel material.
2, The production capacity: 2-5 tons / hr.
3, The magnetic strength: 12,000 Gauss.
4, Magnetic bar Specifications:Diameter 32,Length 400mm.
5, Magnetic bar spacing: 32mm.
6, The number of magnetic bar: A total of 20, the first layer is 7, the second layer is 6, the third layer is 7.
7, Magnetic bar layers: three layer.
8. Application: Suitable for 8 mesh -1000 mesh ceramic material (quartz, frit, kaolin, feldspar powder, silicon carbide) and chemical, plastics, food of industries for removing ferromagnetic substances.
Features:
1, Super magnetic strength, not only remove the machinery iron generated the raw material during grinding, but also the raw material of iron oxide can be removed.
2, This machine can continuous remove iron,layer by layer draw out of magnetic drawer,Raw materials can continue to enter into the separator, can continuous work, need not stop feed.
3, This machine can install a vibrator to the raw materials flow more smoothly.
Overall dimensions drawing: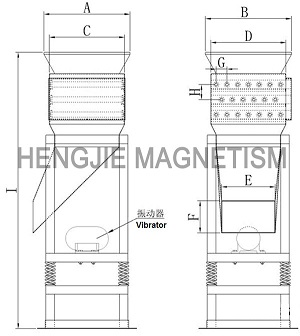 Overall dimensions table: