Circular vibrating screen
is a high efficient shaker,
the amplitude of
intensity
can be adjusted,
sieving area
is long
, multi-layer
screening, final product
specifications is
clear, the
screening equipment is high
efficiency
,it is suitable
for
mining
,
sand and gravel industry
etc
.
Circular vibrating screen
adjust amplitude by
the barrel
type
of eccentric shaft
vibration exciter and eccentric
block
,have many screening
specifications,
reliable structure
,
strong exciting force
,
high efficiency,
low noise and
durable,
easy maintenance,
use safety of features,
the
vibrating screen
is widely used in
mining, building materials
, transportation,chemical industry etc for
products
classification.
Features:
The drive device use simple structure, easy maintenance of petal-shaped couplings and flexible disc couplings, overcome the easily damaged defects of universal coupling, vibrator used eccentric block structure, simple structure; may outfit a feed hopper, feed hopper increase the effective screening area, and extending the life of screen that feed end; the transmission part equip a middle transition bearing so that protect the motor , extended motor life. Motor can be mounted on the left or right side of the screening frame,This machine is sitting mounting. Adjusting the inclination of screen surface can be achieved by changing the position height of the spring seat.
Work principle:
The vibrating screen is consists of screening box, screens, vibrators and damping springs. Vibrator is mounted on the side of screen box, rotated by a motor through V-belt, generate centrifugal force, forcing the screen box vibration.
Structural diagram: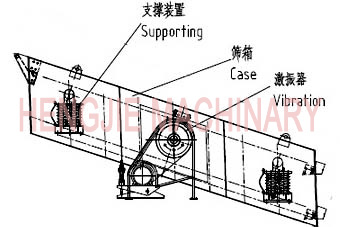 Technical parameter table: