Impact crusher
is suitable for
crushing
hard
materials
(
compressive strength not
more than
350MPa)
,
such as: granite
, basalt, iron ore,
manganese ore
, limestone,
gold ore
,
concrete
and so on.
Features is
high
crushing
hardness
,
large feed size
;
counterattack
plate and crushing
hammer
of
gap
can easily
be
adjusted
to change discharging size
, particle shape
is good
;
compact
structure, high reliability
;
high chromium
plate hammer
can
impact and
abrasion resistance
;
high
crushing
ratio and yield
,
easy maintenance
, high
comprehensive etc
, so it is
widely used in railway
, highway,
cement
, mining, chemical, construction and other
industries.
Impact Crusher is a broken machinery by impact energy to break the material, the motor drive the rotor to high-speed rotation, when the material into the plate hammer area, after the plate hammer impact the materials, the materials are thrown to counterattack device and broken again, another back to plate hammer area from the counterattack scaleboard and broken again, this process is repeated, that is the material impact and crushing in the first impact each other, then into the second impact area,again impact and crushing, until the material is broken to the adjusted size, discharge from the discharging outlet.
Structural diagram: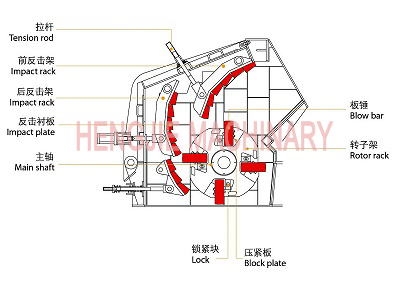 Technical parameter table: