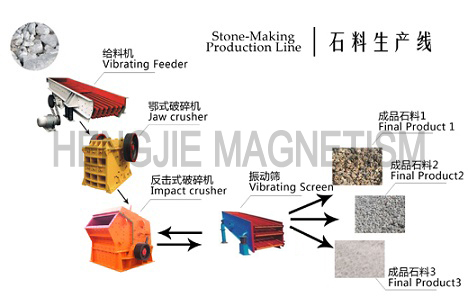 Product Introduction
Stone production line mainly consists of vibrating feeder, jaw crusher, impact crusher, vibrating screen, belt conveyor, electric control system and other equipment, production design 30-1000 tons / hour. Suitable for crushing compression strength not more than 350Mpa solid material, such as broken pebbles, quartz, limestone, granite, basalt, etc., to produce a variety of stone aggregate. The whole stone production line optimize the design according to the process,make equipments at all levels are reasonable match.rigorous space layout and equipment configuration are determined according to customer specifications, at the same time equipped with advanced electronic control operating system, so the entire production line high degree of automation, in addition to the normal startup, shutdown and routine maintenance does not require manual operation. Has a advantages for good grain shape, high yield, little stone flour, and the entire production line is reliable, easy to operate, energy efficient, and truly provide the most reasonable and most economical production line to customers.
Working principle
Big stones evenly are sent to jaw crusher by the vibrating feeder from hopper for primary crushing, the primary crushed stones are sent to impact crusher by the belt conveyor for secondary crushing, the secondary crushed stones are sent into the vibrating screen for screening, screening out several different specifications of the material block,meet the requirements of the blocks are sent to the finished product stockpiles by a belt conveyor; substandard material block returned to impact crusher by a belt conveyor for crushing again so form a closed cycle.